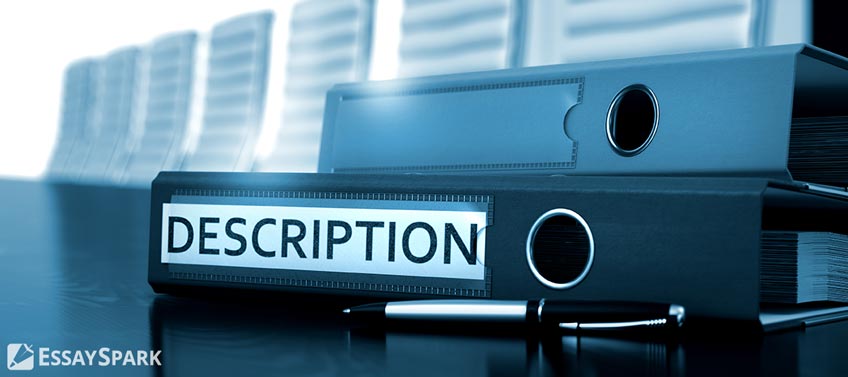 There are thousands of various tasks to tackle at college or high school but writing essays is probably the hardest of them. There is a specific type of papers which requires the description of a person or subject. Although it seems to be an easy kind of writing, there may be numerous peculiarities and details to take into account in order to reach success and produce the best quality of essays.
Children from the very young age are asked to create a description of a particular thing. It is a nice way to check their creative skills and imagination. At the same time, older students have to develop a truly responsible and serious approach to this type of a task. It is important for them to understand some basic things about essay writing. However, if you wish to get aware of the ideas connected to the creation of descriptive papers, you should pay attention to this article. The most effective and useful pieces of advice are put down here.
Understand the Subject
It is crucial to understand that you have to describe a particular subject including all details and hidden peculiarities. It is not a quick and simple task as you have to apply your analytical and critical skills. It is necessary to analyze the object. After you understand its specialty, it will be easier to build your story surrounding it with minor details and side arguments. Never start writing without a good preparation. It will only waste your time and efforts. In this case, you cannot do without small details, which, according to one statement, are the basis of any work and set its general tone and mood. It is much better to comprehend what you describe and only then, put these things down.
Use Epithets and Metaphors
It is essential to actively use unique literary techniques. Epithets and metaphors are your best friends in this case. Thus, you should try to decorate your text with them and it will sound amusing and unusual. Extraordinary adjectives can make the description of any piece creative and interesting. It is a good idea to open your pocket dictionary and look for cool phrases to improve your paper.
Be Specific
You should try to stay specific while working on your essay. It may happen that your teacher will ask you to describe a boring and usual object. However, it is not the reason for being worried and upset. You still have a chance of producing a brilliant paper and reaching success. Just try to write in the unusual and specific way. Furthermore, it will be easier to work on such a task if you have a creative approach to writing.
Get Inspired
As we know, inspiration is the key element for producing a good and interesting text. It is a brilliant idea to find some inspiration in others' writing. Thus, you will be able to work effectively and prevent being banal. Try to understand why the topic of your essay is amusing. You can enjoy everything you write about in case you develop a correct approach to the process of creation this text.
All in all, there are several effective tips and hints which can help you to produce a perfect essay with the smallest amount of time and efforts. Moreover, your teachers will be amazed by the quality of your papers. Not every student is able to cope with this task perfectly as they usually undervalue it thinking that this type of essays is for children. However, many of us fail while working on these texts and then, have no idea why it happens.
The best way of preventing such things is using our practical tips and hints which are extremely useful. They can reduce your typical mistakes, so you will never feel ashamed again while listening to the teacher's remarks. Try not to ignore these ideas. Apply them in practice and get pleasure from the things you do and write about. We hope that our ideas will ease your college life.