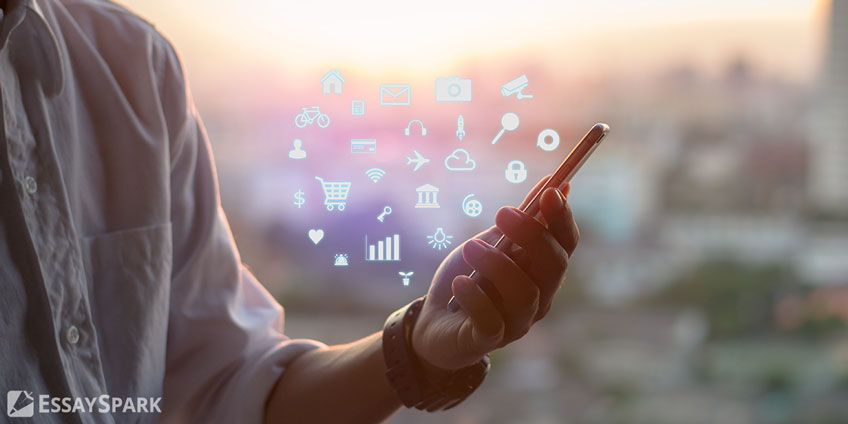 At first, let's go a little general.
Mobility is one of the essential features a novelty must possess if its authors want it to survive in the modern world. Fortunately, software developers from all around the globe appear to be very progressive people, who know what exactly we, mere mortals, require from their creations.
And we require mobility of our personal data, our contacts, our plans, and even our knowledge. I need to be sure that I can get in touch with my family and colleagues, read books, write my essay or blog post wherever I am at the moment. Learning a foreign tongue can also be added to this list.
Of course, we can't but be thankful to all those guys who work on brand-new technology, as well as to all those geniuses who develop useful, helpful, and educational software for modern gadgets.
Today mobile apps can meet almost any our need. Plus, they give us even more than we request. And that's a good point to return to our main topic – free apps that can help you learn English. We'll discuss the most popular ones. Make sure they will stand you in a good stead if you plan to upgrade your listening, reading or writing skills.
So, if you don't want to turn the learning process into a routine, check the descriptions of these five apps. Download and start using the ones you like without delay!
Memrise (Android and iOS)
When a great cognitive scientist and neuroscientist start working together on a mobile app, something like Memrise can become the astonishing result of their successful cooperation. Created by Ed Cooke and Greg Detre in May 2017, the app was acknowledged the winner of the 2nd edition of Google Play awards.
English is only one of the twenty languages available with the app. You can learn new words and repeat them regularly in an original and funny way. Plus, it offers you to take a great free course in the English grammar.
Note that you can do it all without connection to the Internet.
Busuu (Android and iOS)
The winner of various tech competitions awards, this app features much more than smart exercises for memorizing words and idioms. Busuu offers you to try the courses based on levels A1/2 and B1/2 for twelve languages. All courses include speaking and writing assignments.
However, the main perk of this very app is that it allows you to communicate with native speakers of the language you learn. Partly, it's like a social network, which helps you learn in a complex and systematic way.
By the way, Busuu is the name of a language spoken in Cameroon. The study of the 1980s revealed that only eight people were able to speak it at that time.
Babbel (Android and iOS)
It's an ideal app for beginners. Along with English, it provides 13 other tongue options.
Babbel is mostly aimed at helping its users to acquire the basic speaking skills. It is stuffed with everyday topics like self-introduction or travel arrangements. The developers strived to let all learners feel confident of their conversational skills in typical life situations they will face inevitably.
The lessons are divided by the level of difficulty according to the CEFR. This is a standard, widely acknowledged guideline for teaching, studying, and assessing skills of foreign language learners, initially applied to all languages in Europe but used in other countries either.
Duolingo (Android and iOS)
The app has a lot of interesting and helpful features even for advanced English learners. Its studying system offers you several time options, with the maximum of 20 minutes per day which you should spend on doing the exercises.
Besides, you can track your own progress in learning and practice the words stored in a special vocabulary section any time you wish.
And here is a cherry on this cake. Duolingo has been applied in the teaching practice in schools of Guatemala and Costa Rica as a governmental pilot project. It's highly likely to be quite a successful step.
SpeakingPal English Tutor (Android and iOS)
This app is for you if you strive to improve your pronunciation and speaking skills. At the same time, it can offer you smart interactive training in reading and writing.
SpeakingPal uses the voice recognition technology of your device in order to understand what you say and simulate your voice call with a native speaker. If it seems to you that artificial intelligence is involved, you are right. This app is a really smart interlocutor.
Although it offers you a standard set of dialogues, their patterns are unpredictable. It's you who decides what is going to be next.